Security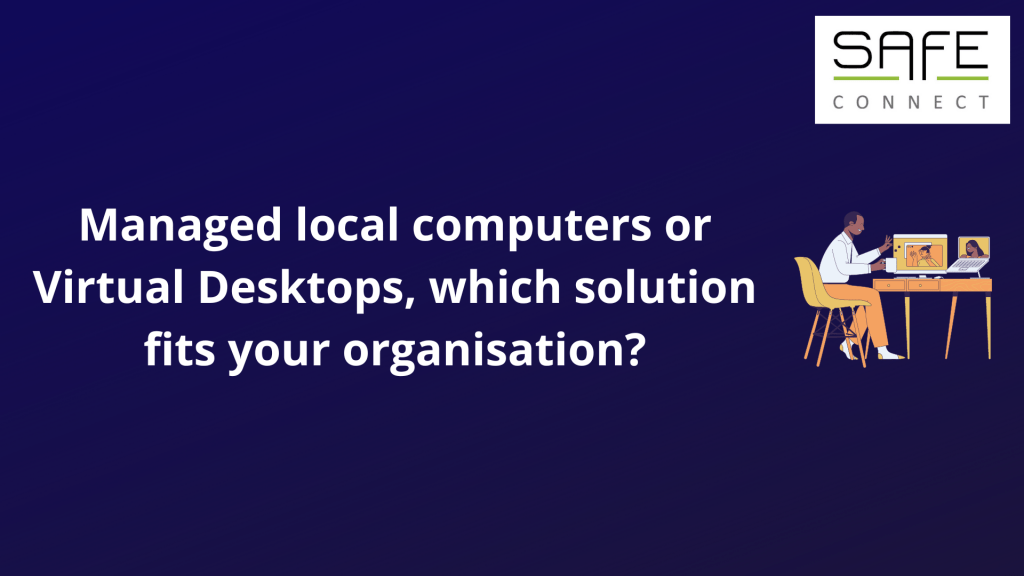 Working safely and productively remotely: what is the best solution for you?
Collaborate securely across devices in multiple locations. Is your way of working digitally evolving as well? As an organization, you want to provide flexibility to your employees. But with security in mind, you face a challenge. Soon you come across solutions such as Virtual Desktops. But is that really the right answer for everyone? Because it is also possible to collaborate securely and productively without virtual desktop technology. You do that by managing computers with Microsoft Endpoint Manager.
A quick recap: what are Virtual Desktops?
Virtual desktops replicate a physical computer. They have the same look and feel as a regular PC. With an Internet connection, you can access this environment regardless of location or device. It serves as a solution for organizations that want secure remote collaboration. With centralized management, the IT team tailors the virtual environment to the needs of employees. This allows applications to be installed on multiple virtual computers and eliminates manual installations. Useful, for example, if you are hiring new workers or want to integrate new software.
Furthermore, employees are in a secure working environment. With a Virtual Desktop, you can also adjust the performance of the machine. For example, if you need a little more processing power for a week, you can do that. The downside? Not all software is easy to bring to a virtual environment. In addition, you only really gain a cost advantage if you have enough users. That can also be accomplished in a different way.
Securely collaborate with managed computers through Microsoft Endpoint Manager
Microsoft Endpoint Manager was created to support you in securing your digital work environment. Instead of configuring Virtual Desktops, you can manage physical devices here. So you get a centralized management in which strong security plays an important role. That way you implement a security layer and policies can be linked to it. Thus, corporate information is secured and protection techniques such as Multifactor Authentication are implemented.
Your business applications can also be installed on any computer without manual configurations. Thus, all work devices are equipped with appropriate programs and high-quality security. In other words, all ready to work together safely!
Which solution is right for your organization?
It depends on several factors such as: the number of employees, the type of software you use and your budget. For smaller organizations, in most cases we recommend a managed environment with Microsoft Endpoint Manager. With proper configuration, you combine productivity and security in an attractive price package. Do you have a growing number of users who want to work flexibly? Then the need for Virtual Desktops increases. There is always the possibility of switching.
The features for you at a glance:
Managed computers with Microsoft Endpoint Manager
Collaborate securely and productively
Use your own computers
Install your business software on multiple devices with centralized management
Suitable for small and medium enterprises
Lower monthly costs
Virtual Desktop
Secure and productive collaboration
Virtual desktops are billed for a monthly fee
Centrally manage your business software across multiple devices
Suitable for medium and large enterprises
Higher monthly costs
Is digital collaboration crucial for you? Let's get started! Schedule an appointment with our specialists to discuss and implement your customized solution.
Go for a digital work solution