Blogs
Our login credentials, do they guarantee our safety?
Multi-factor Authentication is necessary to increase our digital security. You can read more about that in
our blog on the importance of MFA
. In this blog we describe the need for a complex password and the solution; using a password manager.
The password
we enter every time we log in. A password that is not too difficult to remember and preferably not too long. Short and easy right? That may be the case, but it's simply not good enough and digital security is becoming more important. The image below shows how vulnerable our passwords are to cybercriminals. It takes only 5 seconds to hack a 6 character password.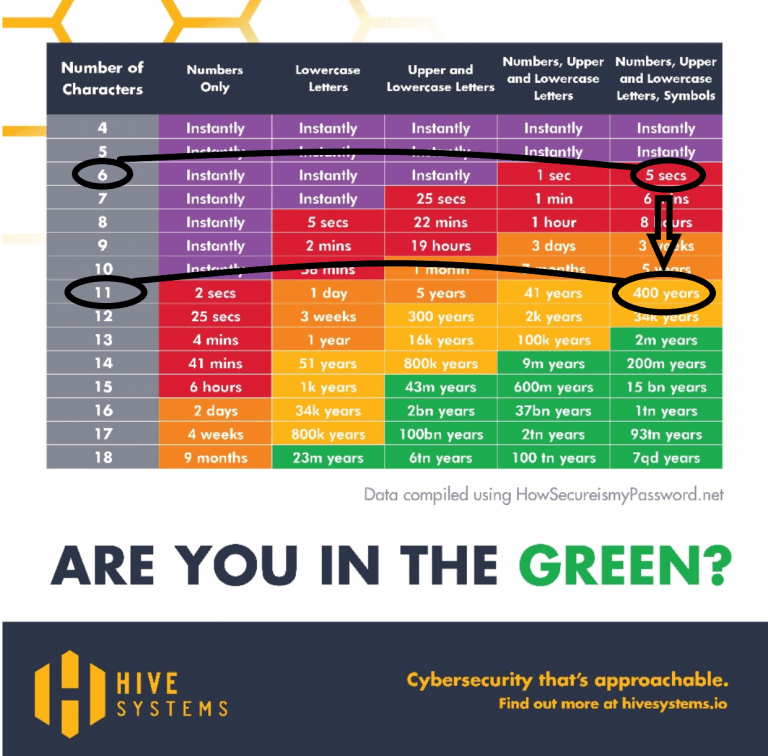 The image also shows that in order to have a good password, you must have 11 characters with numbers, letters and special characters. It would then take hackers 400 years to get their hands on your password. You'd be surprised how many users have passwords that contain less than 11 characters. Passwords are way too weak and they are easy to crack. Using a short password that you can easily remember is just not possible anymore. You can test yourself how long it takes to crack a password:
https://bitwarden.com/password-strength/
Creating a strong password that is easy to manage
The need to create a strong password, as described earlier, is becoming more prevalent. Even creating strong passwords is a challenge these days. So how can you remember those difficult but strong passwords? That's usually not doable and inconvenient. A password manager like Bitwarden can help you with that. With this password manager, you can have unique passwords generated and managed in a user-friendly way. You can also choose to enter your own passwords and let the program remember them. In an organized way you get an overview of your login data per account. This allows you to improve your privacy and increase your productivity online from any device or location. An example of what Bitwarden looks like is shown in the image below.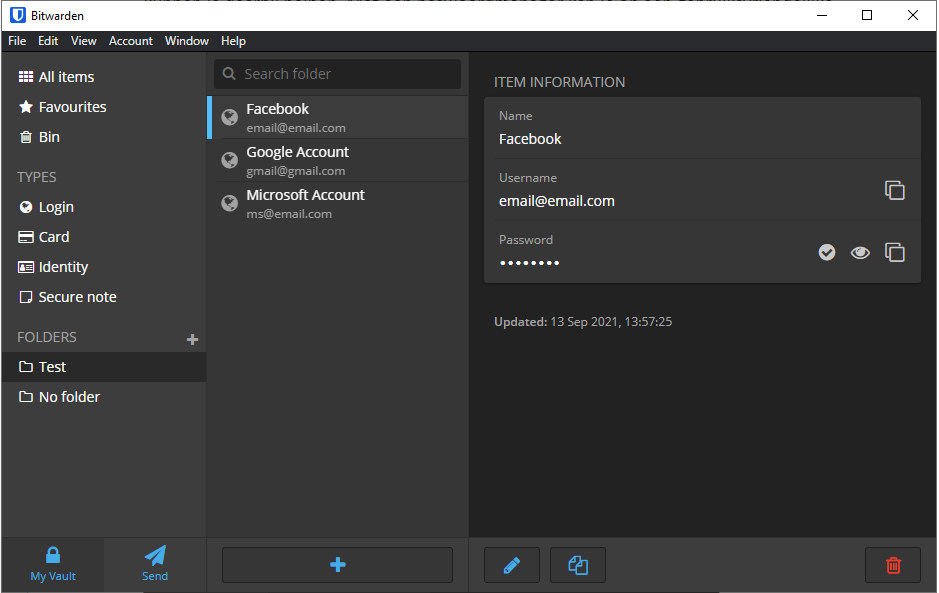 Setting up and using a password manager is quick and easy to use. Bitwarden is free, but there are also paid versions. In the free version you get access to the basic features such as unlimited password creation, Two Factor Authentication and the ability to sync your passwords with other devices. In the free version the limit of the number of users is limited to 2. Therefore, it is interesting to get the Teams Organization or the Enterprise version. The Enterprise version costs 5 dollars per user per month. In this package you get access to reports about your passwords, unsafe websites and other valuable security information. Moreover, only the Enterprise version allows you to enforce security rules for all users, thus increasing your internal security. As administrator you also get an overview of all users and you can assign roles to your users. Bitwarden is available on Windows, MacOS and Linux. It is also available in your browser and on your smartphone. If you use Google Chrome, for example, you can add the extension to your browser from the Chrome Web Store. Using Bitwarden, you can easily manage all your passwords, all in 1 place. When you are on the move, you can always use Bitwarden's mobile app. This will synchronize the data allowing you to access your strong passwords anywhere, anytime.
Do you have questions about Bitwarden or are you looking for how to integrate such solutions at the enterprise level? Don't hesitate and contact us today.
Do you have questions about Bitwarden or are you looking for how to integrate such solutions at the enterprise level?
Don't hesitate and contact us today.
Contact us